UCSF/SFSU Graduate Program in Physical Therapy
The three-year entry level Doctor of Physical Therapy (DPT) program is offered jointly with the University of California, San Francisco (UCSF). Our 36-month program begins in June and includes 34 weeks of full-time clinical experiences. The DPT program is designed to prepare scholarly clinicians, educators, collaborative clinical researchers, administrative managers and community leaders. The program accepts 50 students each year.
The curriculum is built on a strong theoretical foundation in basic, medical and applied sciences. Critical thinking and clinical reasoning skills are developed within an integrated program that prepares students to work collaboratively with patients across the lifespan to improve health and wellness, address disability challenges and optimize function.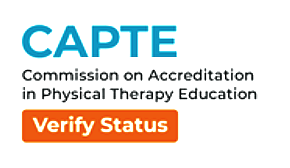 Faculty Hiring Announcement
We are hiring! We are hiring for a tenure/tenure track position in our entry level DPT Program, offered jointly with UCSF, whose teaching and research interests include content expertise in adult neurologic physical therapy and related areas. Apply Now